Since I started reading Gary Zukav's The Seat of the Soul, I've been trying to see into the soul of my Jezebel in search of a compassionate side. To see the purpose of the timeline collision of our lives from a different perspective. Perhaps in doing so, I could try to find the why not only in my story but in our stories.
At first, in the hours, days, and weeks after her death, I engaged in emotional warfare since nothing but hurtful and harmful memories surfaced from deep within my soul. Nevertheless, here I am – a good three months later, in search of something good, something purposeful in her existence? Yet I still can't help but wonder: Can anyone be that evil unless there was a definite purpose in their existence?
There are personalities that are selfish and hostile and negative, but even in these cases, we cannot fully know the reasons why. These are hidden from view. That does not mean that we cannot recognize negativity when we see it, but we cannot judge it. (pp. 27-28)
I've tried to rack my brain in search of examples regarding anything my Jezebel had done for me that wasn't out of obligation. Surely, there was something she did – not because she was trying to maintain a certain look in the public eye, not because she was imposing her own will onto another, and not because she was secretly being rewarded under the table? Surely, there existed some genuine love and compassion for such an individual, right?!? Yet I still can't muster up not one happy memory – at least for myself. It's almost like trying to find a needle in a haystack. The only thing for certain is that there is a needle there somewhere but whose has ever seen it is the question. Actually, I know of one person who had seen it and that person was my dying mother. She claimed to have seen the compassionate side of Jezebel – and I believe her account – every bit of it.
I was in the eleventh grade when my mom found a lump under one of her armpits. To determine if it was benign or not – I think the doctors already knew it was cancerous, she was scheduled for a biopsy which quickly turned into a lumpectomy. While in recovery, my Jezebel was granted access to go back and see her while I stayed in the waiting area. Personally, I didn't want to see her like that.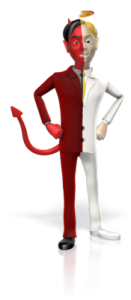 As the anesthesia was slowly wearing off, she assumed she was either already dead or caught up in a heavenly dream. Someone was leaning over her, caressing her face, and speaking ever so softly. Still groggy, she couldn't decipher who the person was or what she was saying. All she knew was at that moment, she was receiving the most beautiful download from someone full of love and compassion.
As she finally started to come too, she realized who the person was. Since she had NEVER heard such words of nurture and comfort from THIS PARTICULAR BEING, she said nothing and continue to lie there motionless, soaking it all in. At one point, she heard them say something about LOVING HER. Moved by emotion and before she knew, she spoke up and repeat the words back to her. WRONG MOVE!!! 💩 Everything went south from there.
In a blink of an eye, the angelic presence shape-shifted back to a demonic personality. Feeling as if she had been dubbed, my Jezebel angrily stormed off to the nearby window, literally cussing – a rare occurence – under her breath but loud enough for my mother to hear her. She swiftly denied the entire experience as if it was a hallucination on my mother's part. Nevertheless – if for only a few seconds, my mother then in her late-30s finally got a chance to hear a parent say I love you but that wasn't enough to save her in the end. 💔
~~~~~~~~~~~~~~~~~~
Have you pre-ordered your autographed copy of The House of Jezebel yet? If not, feel free to do so right HERE. Your support is greatly appreciated but only if you feel lead by Spirit to do so! 💜<drj>💜
Follow #thojbook on: